We CAN NOT WAIT for the Summer of 2021 to begin!  We are busy planning and prepping in the Camp Office and while we may not be able to do our typical pre-camp events, we have lots of fun stuff planned to get all our campers ready to have the BEST SUMMER EVER (wood!)!!
MAY 8th, 6:00pm:   EVERWOOD PAINTS WITH DEB!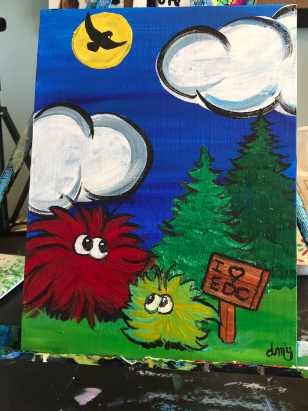 Our beloved canvas painting specialist, Deb Morris, has taken her amazing talents to the virtual world allowing all of us to learn to paint together even though we can't yet be "together!" (Soon though!)
Learn more about Painting with Deb HERE 
Join us for a fun night together as we paint this "Warm and Fuzzy Scene" and get excited for all that is ahead for us! We LOVE EVERWOOD!   
Free Online Event ~ All you need is your supplies which can be purchased easily through Amazon!  To register please complete the form below.  You will then receive link to the event as well as information regarding how to order your paint kit!