Hey, Everwood! We are missing our camp friends right about now and know that you are probably missing them too! We have an idea that will make you feel a little more connected to your Everwood family….
We know these are strange times and you guys are doing great.  More specifically you are showing integrity as you finish your school work, teamwork as you help your families do chores and clean up at home, perseverance and grit as you keep up your positive attitude…. and so much more. We think you deserve a warm and fuzzy and so do all of your camp friends!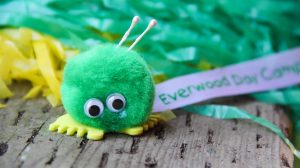 But we need your help making enough warm and fuzzies to warm up the whole Everwood world.   We've created a couple of options for you… either make your own warm and fuzzy by watching DeeDee's great video below, or color in the warm and fuzzy below!   (Just click the picture for a downloadable PDF).   Then we want you to take a picture of your Warm and Fuzzy (and maybe you!) and send it to us, so we can make a photo album for all our camp friends. Leave the Warm and Fuzzy in your window and people passing by can smile and get those warm and fuzzy feelings too! Hang in there, Everwood! You are AWESOME!