Here at Everwood Day Camp we fully embrace the idea of growth mindset, and that there are always ways we can learn, grow and improve. With that in mind we are so excited to share with you some updates to our swim instruction curriculum and programming for the Summer of 2018. In partnership with the incredibly knowledgable and talented Andy Broido of Swimconsultant.com we have created a child centered swim program that will keep your swimmer moving forward and developing a love of the water! Some of you may recognize Andy's work as she has closely consulted with the beloved Little Flippers Swim School as well as PODS in Providence…. Here a little more about what to expect…
Our Goal:
Our goal for our swim program is to teach water safety and instill in all students a true love for the water.  In fact we want our campers to love it so much they could live in the water.  To achieve this our goal is that all swimmers feel safe, balanced, comfortable, and happy in the water. This is how swimming and a love of water becomes a skill for life!
The Curriculum:
Our new and updated curriculum has been developed over many years of teaching experience and have proven effective in teaching children to swim. The curriculum focuses on learning breath control, bouyancy and balance in the water.  All our instructors will follow our progressions and lesson plans to insure consistent, effective classes.  Classes will incorporate lots of fun games, songs, and unique equipment to motivate every child
Recognition and Awards: Campers and their parents will receive continued feedback on their progress through our new ribbon rewards.  As campers achieves a new goal/skill they will receive a ribbon recognizing this achievement.  Collect them and watch your child's confidence and pride soar.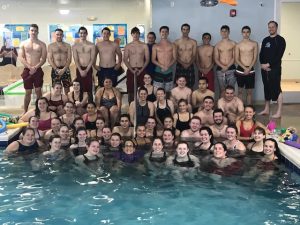 t
Staff Training: Just a few weeks ago we had the opportunity to bring all of ourswim instructors to the Little FlippersSwim school facility in Winchester, to learn from Andy and other Little Flippers leadership team members.  Staff were in the the water practicing with each other and are ready for a summer in our beautiful lake with our campers!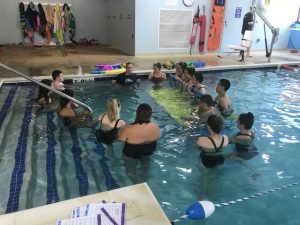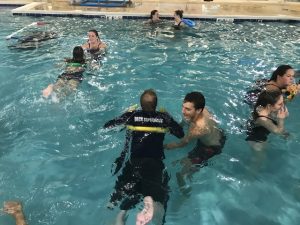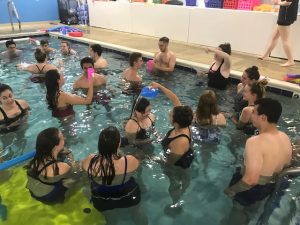 Please feel free to reach out with any questions about the swim program.  You can Direct questions to the following Everwood Leadership Team members:
Megan Martinsen, Main Campus Waterfront Director
Meredith Bertoni, Main Campus Head Lifeguard
Tom Doering: Upper Campus Waterfront Director