We've got some exciting news to share!  Everwood Day Camp's Founder, Scott Brody was just elected to serve as the Chairman of the Board of the American Camp Association! This is a major honor for Scott, and an opportunity to help children from across the nation to thrive and succeed in a rapidly changing world.   The American Camp Association, accredits high quality camp programs like ours, and supports the training of camp staff  so that all can benefit from the learning and growth that occurs at Camp. Scott's hard work and dedication to children and to supporting his fellow camp professionals has resulted in this incredible honor and opportunity to serve, and we couldn't be prouder of our founder, friend and mentor.
From their announcement:
Scott is an educator and thought leader in the areas of 21st-century learning,
workforce development, and child development. He is the founder of Everwood Day Camp in Sharon, Massachusetts, and the owner and director of Camps Kenwood & Evergreen. Scott is also a strategic partner of IDEAS Education in Beijing, China. Scott has been an Executive Board member of the Partnership for 21st Century Learning in Washington, DC, and leads P21's work in "Beyond School" education. Scott has led multiple briefings for the US Congress on the ways in which high quality camp experiences promote college and career readiness and speaks globally on these issues on behalf of the camp profession. Scott is the government affairs chair of both the American Camp Association and the Massachusetts Camp Association and is a member of ACA's CARE Committee. Scott is a member of the Board of Directors of the Foundation for Jewish Camp and the American Camp Association where is also a past Board Vice President. He is also the author of an award-winning article for Camping Magazine entitled "Teaching the Skills that Children Need to Succeed." Scott is an honors graduate of UC Berkeley and received a juris doctor from Boston College Law School in 1990.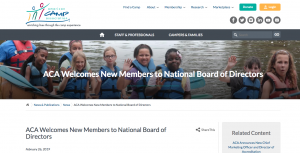 Click on the image above to see the full announcement!
Please join us in celebrating our friend Scott's incredible achievement, and for his continued work on behalf of young people all over the world!